Devil May Cry | Console and Mobile Gaming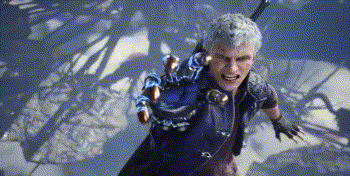 Devil May Cry is a saga that tells the legend of a powerful demon named Sparda who fell in love with a human woman named Eva; as a result of their love, two twins known as Dante and Vergil were born, referring to Dante Alighieri's Divine Comedy, in which this story takes inspiration.
The story tells of that heroic act of Sparda rising against his superior in the underworld, known as Mundus the demon king, sacrificing himself to save humanity. His home is being attacked by demons in Mundus response to murder his entire legacy.
Eva dies protecting her children, hiding Dante in a closet at the same time as she said her last words. Vergil for his part was far from home when he was also brutally attacked by demons as well awakening his true power, at the same time that his obsession with power was born, but it was not until a few years later that these brothers met again.
The first game in the Devil May Cry saga was released on August 23th, 2001 by Capcom exclusively for the PlayStation 2 with Hideki Kamiya as creator and Shinji Mikami the great mind behind the first Resident Evil. Later ported to Xbox360, PS3, Xbox One, PS4 and PC.
This game was born from the Resident Evil Saga, when the 4th game of this title was in development, they realized that It deviate so much from the original content that they had totally new material, giving rise to what we would later know as Devil May Cry, that's why I like to call Leon S. Kennedy (a main character in Resident Evil series) the older brother of the Sparda twins, as an extra fact Resident Evil 4 had to practically restart the development from zero after this.
For consoles there are a total of five games and a reboot developed by Team Ninja in 2013 called DmC Devil May Cry, some people still think that this game is part from the original history being before the third title in terms of time but it is not.
DmC Devil May Cry for being a reboot goes in a parallel universe, its chronological order being as follows:
1. Devil May Cry 3
2. Devil May Cry
3. Devil May Cry 2
4. Devil May Cry 4
5. Devil May Cry 5
Devil May Cry 3 for me was love at first sight, all its setting, designs, characters, weapons, music everything was wonderful, it was literally as if I had found everything I liked in a single video game. But at that time I did not have a PlayStation 2 and I had to settle for researching it and watching videos, some time later I managed to buy my copy of the game and the console, which I still continue to collect.
In fact, this game was released with an error which exchanges the starting difficulties and not only that, it also increased it, which is why many people complained about it, later Capcom decided to launch a special edition where it allowed you to replay all the game with Vergil adding two new cinematics one for the introduction and another one for the end, it was here that the bug in the difficulty was corrected.
I will give a small top of the worst to the best game according to my personal opinion.
6. Devil May Cry 2 was a total disaster, poor gameplay and the game itself contributes very little to the saga.
5. Devil May Cry 4 sins by having an absurd track backing.
4. Devil May Cry was the one who started it all.
3. DmC Devil May Cry Gameplay, wonderful mechanics and game systems, excellent music, but the story does not surpass the original at all, being also an unnecessary reboot for the saga.
2. Devil May Cry 5 a letter of love and forgiveness for all of us who have waited more than 10 years for this title, up to the task in everything, honestly the only thing that still does not satisfy me is the fact of not being able to play with my favorite character from around the world of video games, Vergil.
1. The before and after Devil May Cry 3 saga still remains my favorite game of all time, excellent in everything, I just love it.
Each and every one of these titles are complemented by other entertainment media such as the Drama, Mangas, Anime CDs and the updated art book, in case you want to know everything about Devil May Cry, I highly recommend giving them a chance as it expands in their all this wonderful saga.