Myth Defense looks great on any device with 1080 resolution or above, I must admit.  I also really enjoy the random map element to the game.  That, combined with the other four basic battle maps and three special maps make it an all around full game when coupled with campaign mode.  Campaign mode itself has 18 more maps that you can reply to get higher rankings and get new prizes, which is also pretty cool.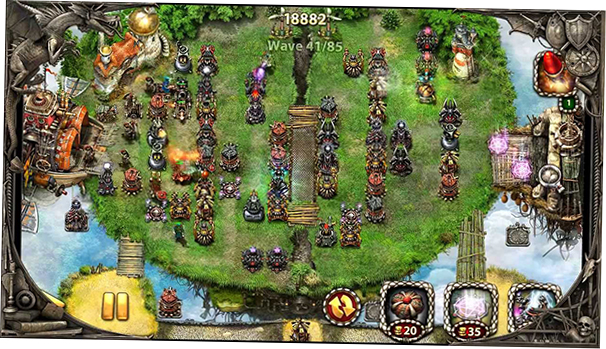 Achievements and ranking are also included, which are kind've bonus features but still welcome nonetheless, especially when coupled with online leaderboards.  There are two difficulty profiles as well; advanced and casual.  The skill enhancements are pretty numerous, and the 22 tower types with 3 additional trap types help round out the game as well.  Each tower and enemy has very specific characteristics as well.
Alchemy is used in the game to enhance towers using runes that the player creates in order to gain more strength and abilities.  You can also use the terrain to help whatever tactics you are trying to employ.  The game also supports multiple languages in the interface as well.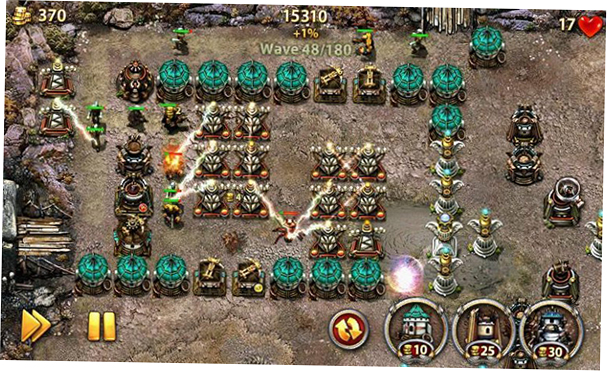 Sound, music, and effects are also well balanced and there is panoramic sound while you whoosh around the battlefield.
The progress you make in the free version is also automatically moved to the full version when you buy the full version, although you need an SD card on your phone in order to do this.
The only technical issue with the game is that some people might need to switch to openGL mode in order to get the game to run properly.
All in all gameplay is pretty solid, combining solid tower defense mechanics with good graphics, lots of game modes and upgrades out the wazoo.  You might find yourself hounded by helicopters while playing or overwhelmed by legions of orcs, but once you get the hang of it, it can be really fun.  The different variations of artifacts in the game make different play styles and combinations possible.
All in all, the game is a good balance of different TD gameplay elements that make it pretty satisfying.  You won't find needless complication or levels that are deliberately impossible in order to make the game more interesting.  Instead, you will find well balanced gameplay with lots of possiblities.